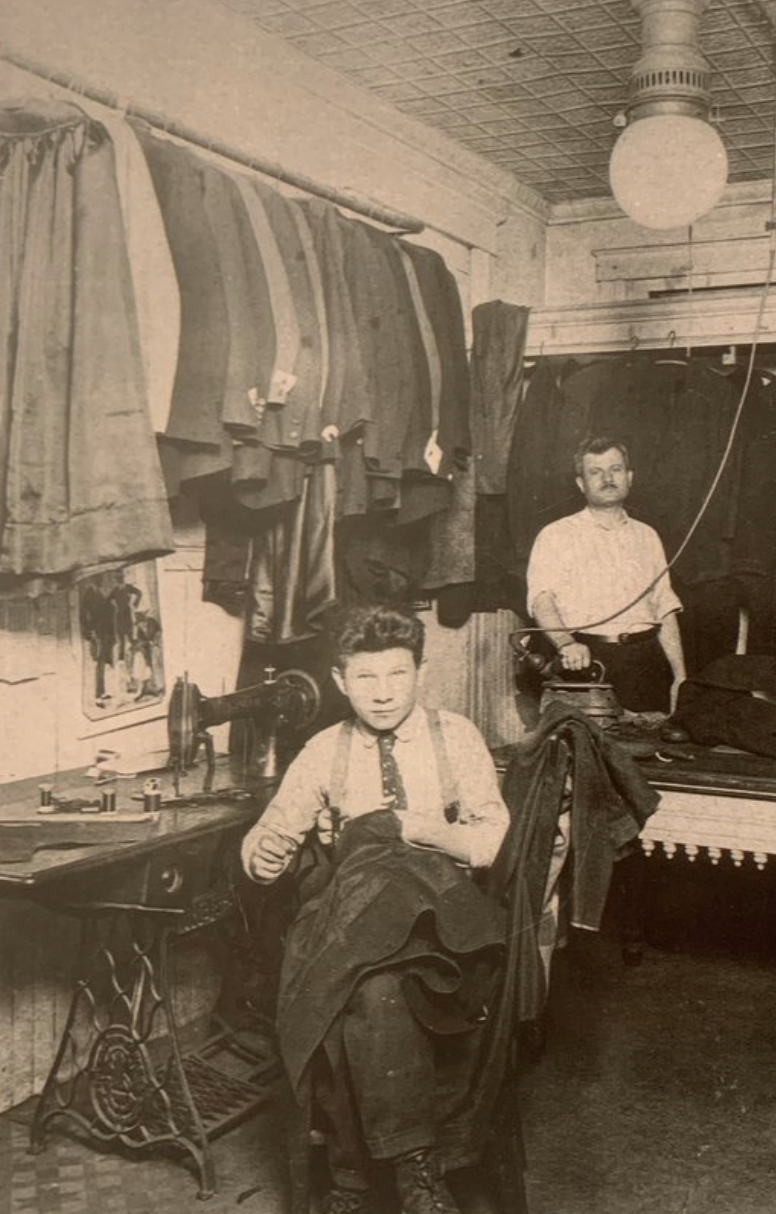 COMING TO AMERICA
1900's
In the early 1900's, Anthony Benevenia emigrated with his wife Giovanna from Cantalupo, a small village on the coast of Italy, through Ellis Island, to the industrial Newark, New Jersey.
Like many Italian immigrants of the time who found work as craftsmen, Anthony became a tailor's apprentice and eventually became the tailor at the renowned American Shops, during what historians call the "Gilded Age of Shopping".
Anthony is pictured left sitting at a sewing machine and working on what appears to be a mens jacket.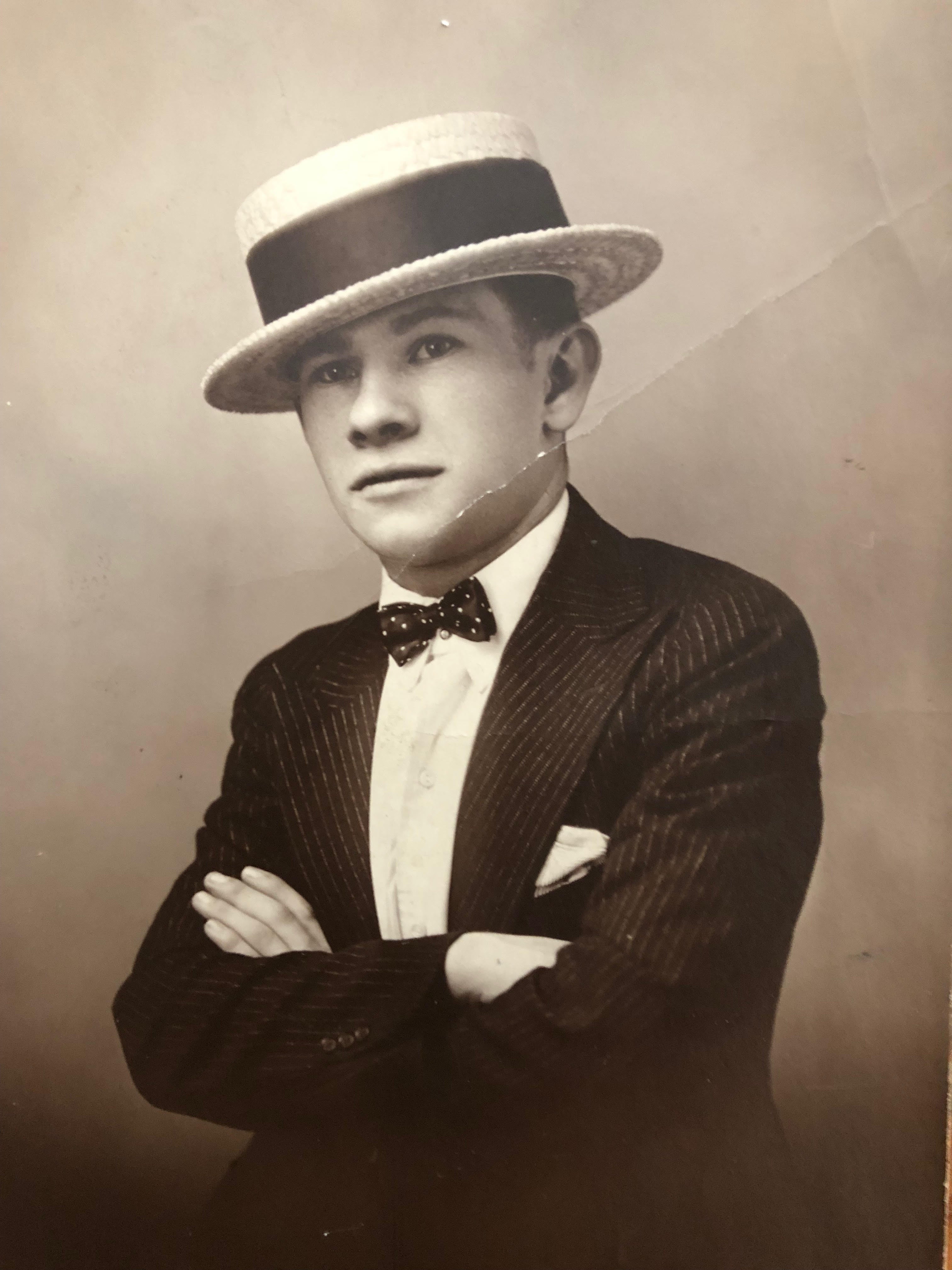 TAILORING A LEGACY
1920'S
American Shops was an exclusive men's clothier on the bustling, renowned Broad Street, known to service high-profile clientele with alterations and bespoke menswear.
The Italian saying of "La Bella Figura" was perfectly embodied by Anthony Benevenia; he always put his best foot forward. Whether it be in his personal presentation (3 piece suits and two-toned wingtips) or in the pride he displayed through his work, despite the pennies it paid.
100 years later, Anthony's legacy would be revived by his great-grandaughter, Cara, who found passion, purpose, and family pride in a few black and white photos, a signed Yankee baseball, and 100 year-old tailoring shears.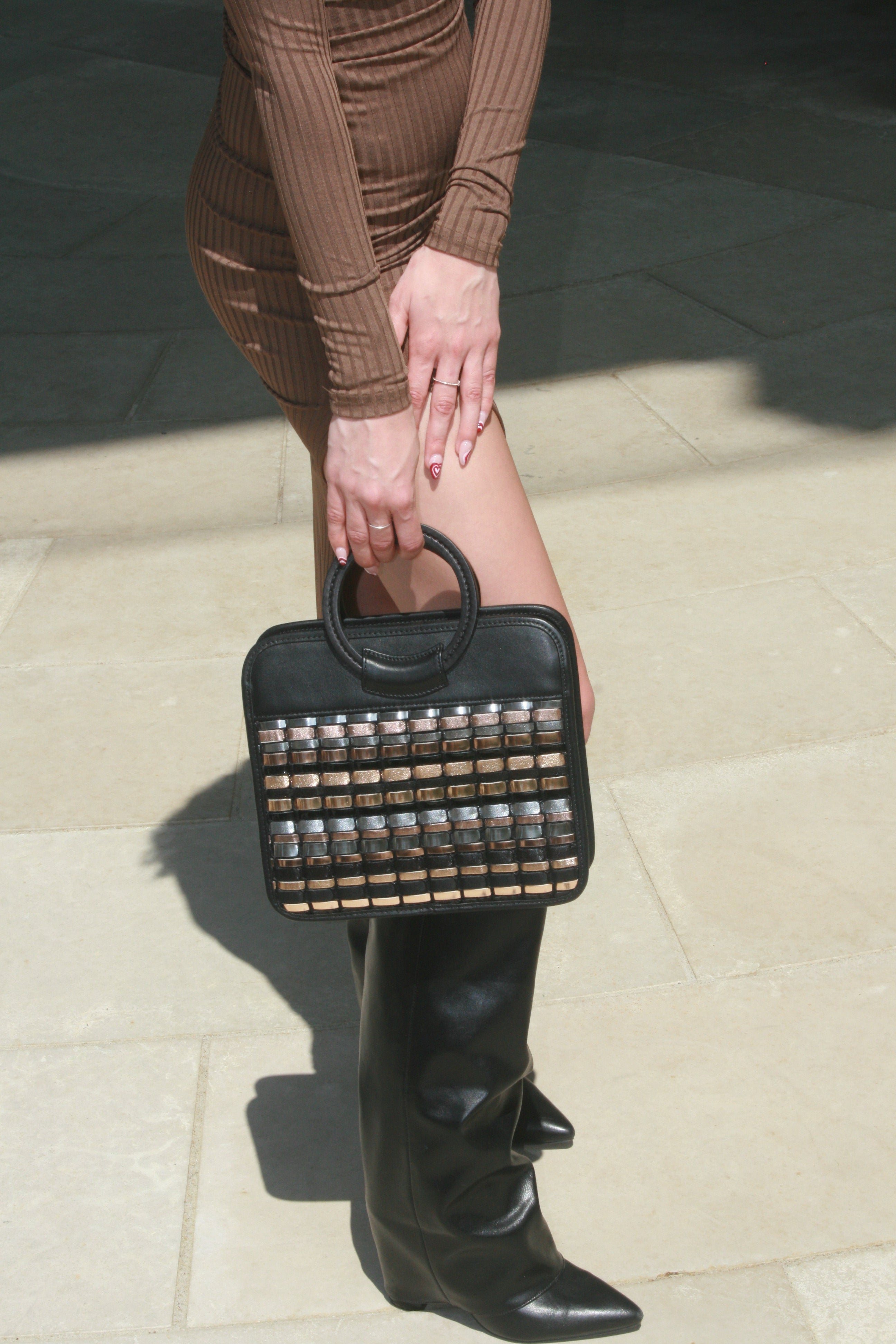 REVIVING THE LEGACY
2019
After graduating with a Bachelor of Fine Arts in Fashion Design as her College's Designer of the Year, Cara Benevenia went on to work for Zac Posen, where she was the right hand to Zac's VP of Atelier and Textiles.
In 2019, Cara set out to design a modern, contemporary collection of women's handbags following the technique used in the apparel of her undergraduate thesis.
Her mission was to create a first-to-market handbag at a sharp, contemporary price-point designed and manufactured in the place she is proud to call home.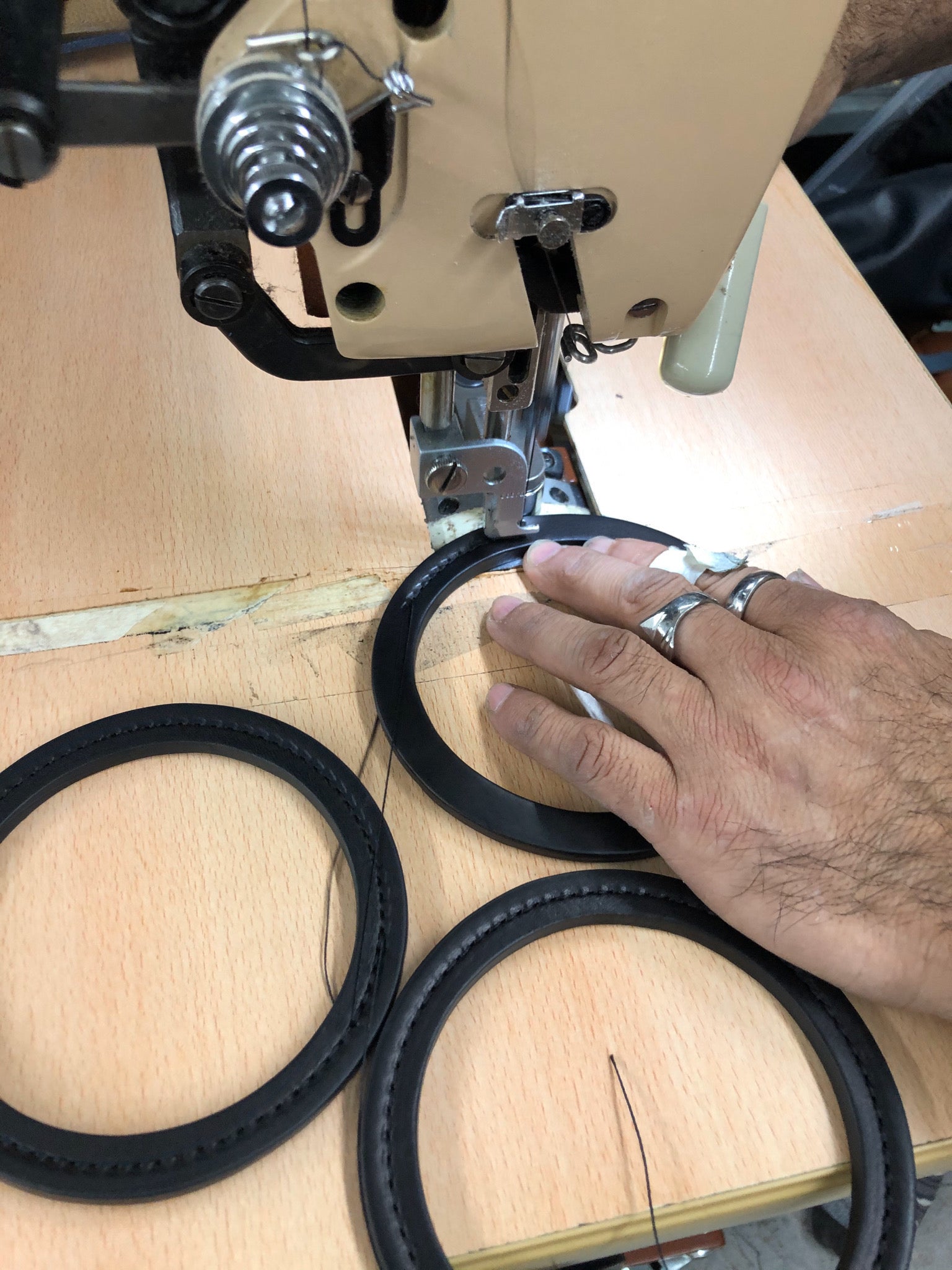 CRAFTING IN NEW JERSEY
2020
Cara set out to honor the legacy of her great-grandfather by combining the old-school craft of Italian Leather-making with a new generation of Artisans in the Garden State.
Cara has fostered close, familial relationships with her suppliers and manufacturers; she sources all leathers from Arzignano, Italy and exclusively partnerns with a local, New Jersey manufacturer for the production of all Cara Benevenia Handbags.
Cara Benevenia's mission is to support a new generation of local New Jersey artisans in search of the American Dream, just like Anthony Benevenia.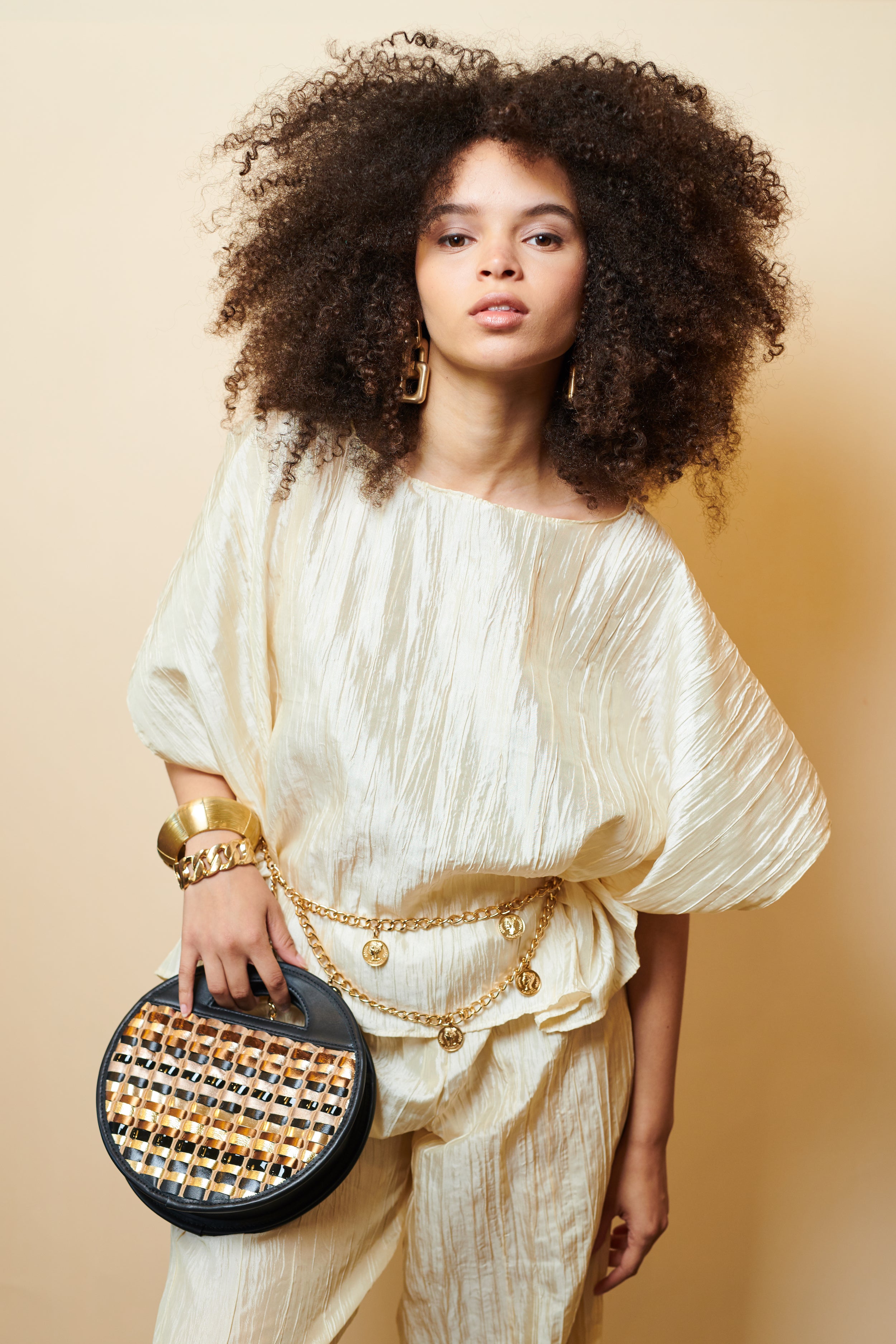 CARA BENEVENIA TODAY
2023
Cara Benevenia Handbags have fostered a community of conscious consumers proud to carry more than just a fashion accessory.
The unique combination of leathers in a laborious, first-to-market textile may set Cara Benevenia Handbags apart to the eye, but the humanity of its story is what truly sets a Cara Benevenia apart to the soul.
Cara's handbags have been recognized by E!News, Yahoo Finance, & New Jersey Monthly, worn by A-listers such as Gabrielle Union-Wade, and have even been featured in a Keith Urban Music Video.